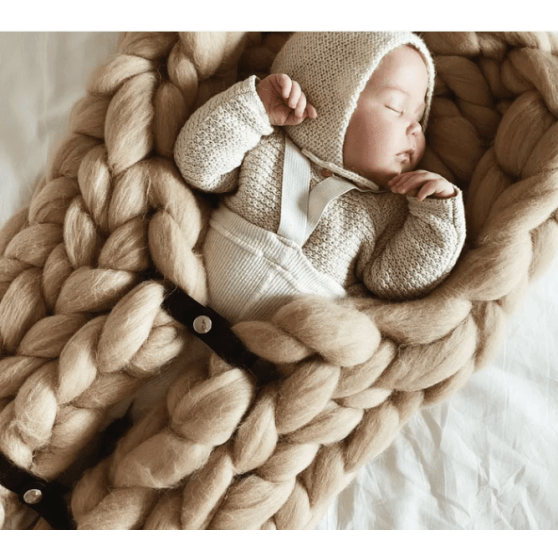 Product Information
Beautiful and practical - the merino wool sleeping bag is a great and long-lasting choice for prams and strollers! The s bag can be used as a sleeping bag in prams and the harness can easily be threaded through the knit when transferring to the pram. The bag is also easy to move and can also be used, for example, on a sled or inside during a nap.

The sleeping bag opens at the front and can be closed with two leather straps. In addition, this sleeping bag also looks great.

Due to its properties, merino wool helps the child sleep better in the stroller. Even if you have to move with the pram between outdoor and indoor spaces, the child will still feel appropriately warm thanks to the excellent thermo-regulating ability of merino wool. So a happy child wakes up from a nap, whose sleep has not been interrupted due to discomfort.

Merino wool is therefore a top choice as a material, because it warms but does not grind. So the child is warm and comfortable in the pram.

Available in three different sizes, the smallest S size also fits in the car seat if necessary, the medium M size fits in the stroller and the large L size is wonderful in a stroller!

Sizes:

S: 35x70cm

M: 40x80cm

L: 50x100cm

Additional information: Material 100% mulesing-free European merino wool, leather parts 100% leather
Merino wool as a material is antibacterial, breathable and soft, so a perfect choice for a baby
The surface of the pre-spun merino wool is not twisted as in yarns. Because of this, a fluff may come off the surface, especially at the beginning of use, this is a property of the material
Each product is handmade to order, delivery time is 1-2 weeks to Finland. Please note that the delivery time might be longer when shipping to other countries.

Care instructions: Remove dust, debris and animal hair by shaking. Merino wool is antibacterial and therefore does not absorb odors, so all you need to maintain is airing and, if necessary, wiping. We do not recommend washing at home.
| | |
| --- | --- |
| Icephorm Item # | 16920-08380 |
Shipping
Shipping available to
Finland, EU, United Kingdom
Shipping Terms
All products are handmade to order, so items are shipped within 1-3 weeks. Delivery time might vary depending on the product.

Where several items are ordered together, then we may use batch shipping.
Returns
Returns Policy
If you are not satisfied with the product, contact us immediately via the Contact Seller button on the product page.
The customer is responsible for the return costs. The returned product must be unused and in the original packaging.
Seller Information
| | |
| --- | --- |
| Business Name | Halivia Design Oy |
| Location | HÄMEENLINNA, Finland |
| Registered Office | Tähtiportinkatu 18 HÄMEENLINNA Finland 13130 |
| Company Number | 3115553-1 |
| Registration Country | Finland |
| VAT Number | FI31155531 |
No reviews have been left for this item.
| | |
| --- | --- |
| 08/29/2023 13:04:20 | Item Quantity Updated. |
| 08/18/2023 08:46:18 | Item Listed. |